((patient waiting mode ON))I'm waiting along with others for the powerbook arrivals. ((patient waiting mode OFF)) It's cold, it's not AS cold, it's nasty. When it's not as cold, it's sloppy. Yeah. Everything still looks pretty nice because it's so cold that the big dumps of snow we got are still around. Last weekend our predicted "dusting to an inch" turned out to be 7 inches of extremely light and fluffy.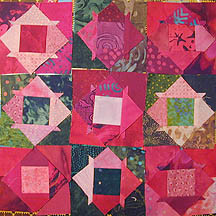 On the quilting front, I've gone back to making little pink and green blocks. Guess I should take some new photos for y'all.
I try to do the same number of blocks that end in pink and those that end with green each time I make a batch, because I need an equal number when I'm done. Being essentially a lazy person, I don't like to have to count and recount to see how I'm doing. This way keeps it interesting and I know I will end up with what I need or at least close. Close counts.
I'm off to the grocery store now – meatballs? soup? Something warm and hearty because rumor has it we're in for more wintery weather this weekend!